So I saw a post the other week (maybe on
Closet Case Files
? That sounds right, but I can't remember...) asking why we as sewing bloggers don't show more Works In Progress pictures, and I thought it was an interesting question. I love seeing WIPs-- it helps me learn, and it helps me not feel so lame when I see other people doing something just as crazy as I do sometimes:) Also, I have a serious lack of Works Done pictures! Maybe this will help me find a way to get more finished project pics.
Anyways, these are going to be a copy of one of my favorite RTW pants from White House Black Market. I've been wanting a good pair of not-jeans, and the impending season change made me want to go black. The fabric is a cotton sateen that I bought from
Pacific Fabrics
this spring. I love how sateen handles! It's kinda lightweight for fall, but I'm Alaskan. I'll deal:)
For the top-stitching, I'm going black. It's unusual on a jeans-style pant to go tone-on-tone, but I saw a picture of some GORGEOUS green pants with an ever-so-slightly darker green embroidering job on the pockets (it was forever ago and I can't remember where it was or I'd link), and I've loved the subtlety of the effect ever since. Plus, I was feeling too lazy to switch machines!
Also on deck:
More of the one T-shirt to rule them all! Vogue 8536 is my favorite t-shirt pattern EVER. And it fits me straight out of the envelope-- I don't even have to lengthen it (gasp). And it comes with three different necklines and three different sleeves and aaaaaaaah. It's such a relaxing sew.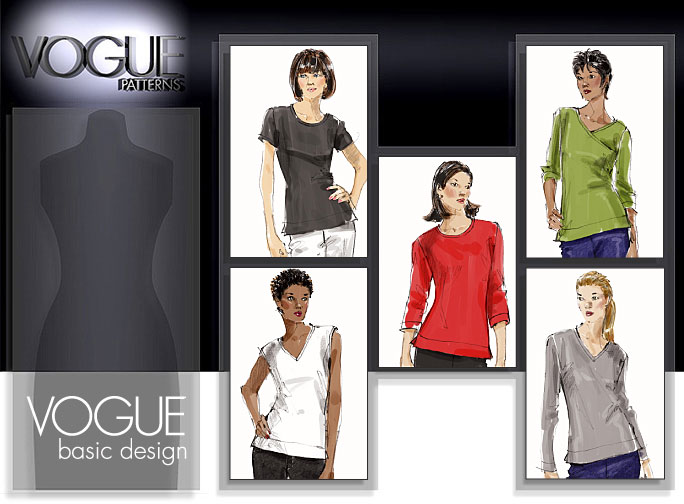 McCall's 6800!! I'm so excited to try this beastie. I bought the most beautiful
purple wool coating from Mood
, and it gets back from the cleaners for preshrinking tomorrow. I'm slightly concerned about putting that much fabric around my hips, but that's what a muslin is for, right?